The Elberta Beach is maintained by nature.  Visitors and locals alike enjoy the (usually) less crowded undeveloped beach to the south of Frankfort Harbor. The Elberta Beach starts at the Elberta Pier and extends south for approximately a half mile. Visitors to Elberta Beach should be aware of the following:
The only public access to the beach is from the Beach Parking Area at the base of Bye Road.  While it may look like there are footpaths from Lakeside Blvd, they are actually on private property, please respect the owners.
There are no restroom facilities at the beach, plan ahead
Fires on the beach are strictly prohibited by the State of Michigan
Driving on the beach and dunes is strictly prohibited by the State of Michigan
Removal activities are ongoing to remove the abundance of (invasive) baby's breath at Elberta Beach.
Access to the pier is at your own risk.
Please respect everyone's use of the beach and leave only footprints.
NO CAMPING
Boardwalk Plank Fundraiser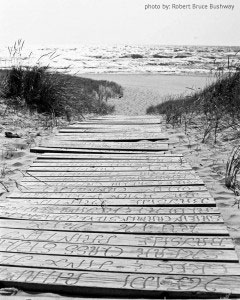 If you have visited Elberta Beach you may have walked down the eclectic boardwalk to access the shore. Parks and Recreation Commission provides this boardwalk as a convenience and a fundraising activity.  To find out more about having a beach plank personalized for yourself.
Boardwalk Plank (25 characters max): $30
Picnic Table Plank (25 characters max): $30
PDF download: Elberta Parks and Recreation Personalized Plank Fundraiser Form
Please mail or drop off at the Village Office:
151 Pearson St.
Elberta, MI 49628