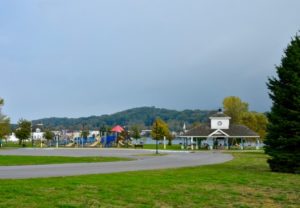 Elberta Historic Waterfront Park is located on 5.6 acres on the shores of Betsie Bay and includes over 1,200 feet of scenic water frontage over 10 acres of land. This park's amenities provide for activities such as fishing, picnicking, and group gatherings that include: weddings, reunions, outdoor theater, and other gatherings. Development of this park was made possible through 4 grants awarded in 1998 and 1999: Elberta Economic Development Corporation with the leadership of the consultant Charles Eckenstahler, PCT.
---
Funding and Grant History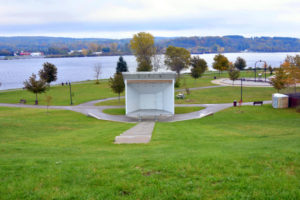 The first grant (TF98-033) titled Ann Arbor Railroad Park/Betsie Valley Trail Head Dev. provided funding that allowed for the development of elements such as; restroom/concession building, utilities (water & sewer), concrete amphitheater stairway, site lighting, park furnishings, and landscaping/plantings.
The second award (TF99-014) titled Elberta Historic Waterfront Trailhead Park-Phase II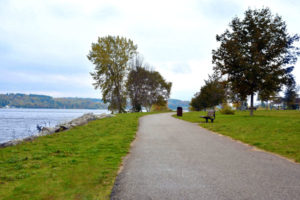 provided funding for the development of elements such as; a picnic pavilion, performance pavilion, Betsie Valley Trail Paving, parking lot (54 spaces)/entry road, site lighting, viewing event deck, landscaping, and drinking fountain. The fishing deck was procured through the Great Lakes Fisheries Trust. The GLFT allowed the village to use the $104,000 awarded for the fishing deck to be utilized up front for the match for the MDNR Trust Fund Grant.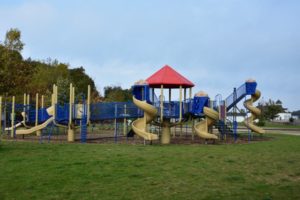 The Traverse City Rotaries Charity provided the grant for the handicapped-accessible children's playground. The match was in-kind, with the community getting together for three days to construct the playscape with guidance by a consultant. The swingset was part of the original playground grant, however, a handicapped-accessible swing has since been added and paid for by the efforts of Elberta Parks and Recreation.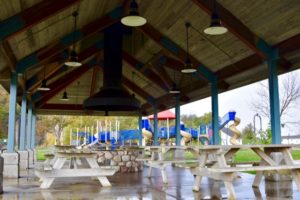 Twelve of the wooden picnic tables in the park were built through a fundraiser from Elberta EDC and volunteers working together to construct the tables. The largest donation came from the Frankfort and Honor Building Supply. No tax dollars were used to build this park. The park is maintained with fundraising efforts by Parks and Recreation, with labor and general fund assistance through the Village DPW and funds from the rental of the Lifesaving Station.