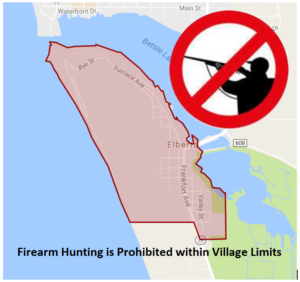 State law (PA 3 of 1895) prohibits firearm discharge within Village limits.
Archery hunting on Village property is only allowed at Elberta Dunes South Natural Area.
Hunters must abide by the Michigan DNR Rules for Hunting and Trapping.
Hunting is prohibited within 150 yards of an occupied building, dwelling, house, residence, or cabin, or any barn or other building used in connection with a farm operation.
No permanent blinds are allowed on Village property.  Blinds remaining after January 1 will be removed and disposed of.
Elberta Dunes South Natural Area is a multiuse park open year round.  Hunters are cautioned to be aware of other park visitors.