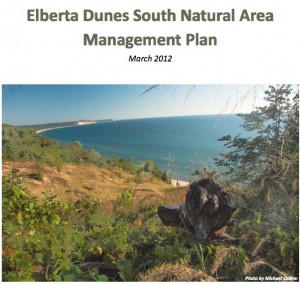 Also known as EDNA
EDNA is our most recent addition to the Village Parks.  Rising to 225′ above Lake Michigan, EDNA rewards hikers with beautiful panoramic views of the Betsie River Wildlife Refuge and the Lake Michigan Shoreline.  The hike is moderately difficult and venturing off the path is not encouraged to avoid dune erosion and poison ivy.
EDNA is at the southernmost part of the Village and is accessed by a parking area off M-22 .   ENDA can also be entered by bicycles and pedestrians from the south end of Lincoln Ave.
EDNA is managed by the Elberta Parks and Recreation Commission in partnership with the Grand Traverse Regional Land Conservancy.
Download a copy of the Elberta Dunes South Natural Area Management Plan.